Google Domains Review -
What is it? How Does it Work and How Does it Compare?
Google Domains may be one of the lesser-known tools in the company's portfolio — but it's certainly not one we should overlook. Google's solution aims to be the most straightforward domain registration service on the market, but does it manage to deliver on this promise? In this review, we'll look into what Google has in store and how good its domain registration solution really is.
What Is Google Domains?
In short, Google Domains is a domain registration service offered by Google.

On the surface, its product is very similar to what other domain registrars have been doing for years — you can go to Google Domains and register a brand new domain name or transfer an existing domain. You can then use that domain to launch a website, create custom email accounts, integrate it with third-party services, and so on.
1. IT COMES WITH WHOIS PRIVACY AT NO ADDITIONAL FEE
What this means is your personal information won't be accessible via various WHOIS lookup tools.
Just to give you some context, with other domain registrars, the price of domain privacy can be anything from $0 to $12 annually. GoDaddy, for instance, offers basic domain privacy for $9.99 a year.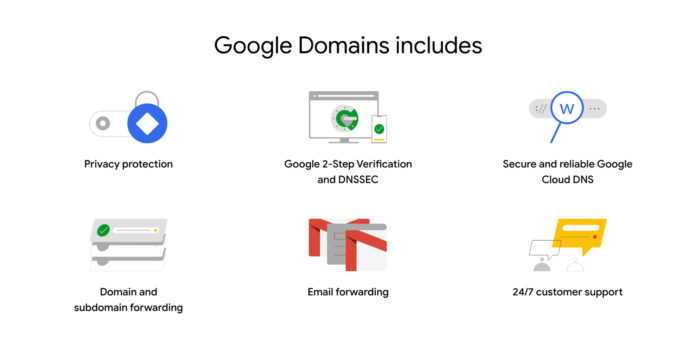 2. THERE ARE NO HIDDEN FEES DURING CHECKOUT
Hidden fees are the scourge of the domain registration industry. There are very few registrars that won't try to upsell you on additional services or upgrades that you don't necessarily need.
Google Domains is one of the good guys: It doesn't force you to buy anything other than the domain itself, and there are no surprises on the checkout page. Google Domains doesn't even charge you the ICANN registration fee.
3. IT GIVES YOU HASSLE-FREE INTEGRATION WITH TOP WEBSITE BUILDERS
If you're looking for a place to register a domain name, the chances are you'll then want to build a website on top of it. To make this easier, Google Domains integrates with some of the most popular website building solutions on the market.
To begin with, there's built-in integration with Blogger and Google Sites, but you're probably not too excited about that. Luckily, Google Domains also lets you connect your domain to solutions such as Squarespace, Wix, Shopify, Weebly, and WordPress.
In short, what it comes down to is, after you register your domain with Google Domains, you can go straight to your website builder of choice and continue your website setup there — with most of the hurdles removed to make life easier.
Of course, if you're not interested in Google helping you out via website builder integrations, you can map your domain name to any other third-party web host — Google doesn't prevent you from doing that.
4. YOU CAN HOOK UP YOUR DOMAIN TO G SUITE
G Suite gives you and your team access to integrated Docs, Drive, Calendar, Meet, Gmail services and more. It's paid for separately, but Google Domains lets you integrate it with your new domain with no hassle.
This also allows you to set up a range of custom email addresses for you and your team — all under your main domain name.
The current price of G Suite starts from $6 per user per month.
5. IT LETS YOU CREATE UP TO 100 SUBDOMAINS
Although a hundred is probably overkill, it's still great to know Google Domains will allow you to create basically as many subdomains as you want for your projects.
6. EVERYTHING RUNS VIA GOOGLE'S DNS SERVERS
DNS servers are critical elements of the web infrastructure; their task is to take your domain name and translate it into a form of a web address that other computers on the internet can understand. Without DNS servers, a domain name would be useless.
If you register your domain through Google Domains, that domain is going to use the same DNS servers as the main Google search engine.
What's also important about this is you don't have to pay anything extra to get access to those DNS servers.
7. IT LETS YOU SET UP EMAIL ALIASES AND EMAIL FORWARDING
Google Domains lets you create up to a hundred email aliases, and then have them forward emails automatically to other (actual) email accounts.
For example, if you don't want to create a new email address to handle customer support, but you still want your customers to be able to send requests to [email protected], then this is where an alias comes in. An alias will grab all of the emails people send to the 'support' address and forward them to some other existing email address.
Google Domains Review: TLDs and Prices
(What's a Top Level Domain?)
Apart from the classic .com or .net, Google Domains also gives you access to a really nice selection of other TLDs — 200 of them.
That said, there are still some notable local TLDs missing (such as .ru or .it). On the plus side, when it comes to custom TLDs, you'll find some really interesting options, including .accountants, .limo,.cleaning, design, store, .tech, .dental, .studio, .investments, .university, .wine, and many other niche TLDs.
Here's how Google Domains' offering compares with GoDaddy's and Namecheap's:
Although the prices at Google Domains may not look too stunning in this comparison, the great thing about Google's offering is the domain renewal prices are the same as the initial registration fees, which isn't the standard in this market. With some registrars, you can find that renewing your domain name for the second period can set you back as much as twice(!) the initial price.
Is Google Domains Better Than Other Registrars?
Setting aside the clear pricing model and all of those additional perks you get with Google Domains, deciding whether Google Domains is actually worth it is still not an easy call to make. For me, it comes down to a couple of things:
First, the core product with all domain registrars is always the same — it's registering a domain name on your behalf and keeping it 'alive'. So, in this regard, Google's product is just like everyone else's — the domain names aren't any better than what you can get elsewhere.
Second, as cool as the extra perks are, things such as WHOIS privacy, website builder integration, subdomains and email aliases aren't exactly game-changing, and you'll find other companies offering them as well. Google Domains is by no means revolutionary.
At the end of the day, what matters most for 99% of the users is the price of the specific domain they're interested in. Therefore, getting a domain at Google Domains probably only makes sense if the TLD you want is cheaper than with the competition. Here's the official pricing table of the domain TLDs available.
Lastly, you should also consider some risks with Google Domains that Google itself may not be too vocal about: Mainly, even though it has the big G behind it, you can never know whether the service will stick around for the long haul. Not all of Google's projects have stood the test of time, and Google is notorious for shutting things down if they fail to meet the company's expectations. For every Gmail, there are several Google Buzzs, Waves and Glasses. For instance, even though it's been five years since Google Domains' inception, it's still in beta.
Now, on to the hands-on part of this Google Domains review:
How to Register a Domain Name with Google Domains
Google's got us used to a certain standard when it comes to its tools and services. Most of what it gives us is simple and intuitive, yet functional. Google Domains is kind of that, but not entirely.
To use it, you have to have a billing address in one of these countries: Australia, Brazil, Canada, France, India, Indonesia, Italy, Japan, Mexico, Netherlands, Spain, Thailand, United Kingdom, United States or Vietnam.
The main Google Domains homepage welcomes you with a neat search field and some additional features. The search will show you what's available in relation to your input, and also let you add more extensions (TLDs) in case the one you're interested in isn't on the main list.
To complete the purchase, Google Domains will ask for some personal information that's required by ICANN, and, of course, your payment method.
Google Domains will also suggest you enable auto-renewal for your new domain name. If you agree, you'll be billed automatically every year.
The very last thing you have to do is confirm your email address with ICANN. This is a required step, no matter where you register your domain name. Google will let you know how to do this.
At this stage, you'll be able to see your domain name in the main Google Domains user panel. From the user panel, you can set the domain's DNS, add email aliases and connect the domain to your website builder of choice (e.g. Squarespace, Shopify).
Google Domains review: Conclusion
Overall, Google Domains is okay as a domain registrar. It's no game-changer, and it's hard to see it dominating the market anytime soon, since it's only available in a handful of countries.
That said, the interface is excellent, and the domain registration process itself is very straightforward. The overall experience is similar to what Google got us used to with other tools in its portfolio. What really stands out is Google's easy checkout and the lack of upsells or hidden fees. If you're a beginner to domain buying, this is something you'll surely appreciate!
However, setting the interfaces aside, most people will probably still only decide to go with Google Domains if the specific domain name extension (TLD) they're after is cheaper than it is with other registrars.